Business Risk Management Solutions
Managing Business Risks is necessity for sustainable growth
Managing operational and compliance risks requires the transparency of risk situation as well as a balanced set of controls that allows all participants to understand their roles and responsibilities. Our Business Risk Management Solution describes best practices processes and tools that allow you to evaluate the overall risk situation ensure controls are implemented and verified in all areas of the organization.
We are experts in the Governance, Risk & Compliance industry and provide professional GRC solutions
With leading experts from the Business Risk Management industry our solutions provide the next step of strategic GRC capability for your organization. Our solutions for business risk management, human resource management, financial services and customer relationship management are geared into providing an exceptional high level of value as well as to continously evolve based new ideas and approaches.
GRC Solution Objective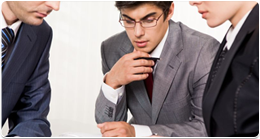 Transparency, Responsibility, Action
Business Risk & Control management requires the sustainable translation of rules and policies into organizational processes. Just the consistent implementation with comprehensive checks and balances clearly allocated to individuals can ensure to avoid business and compliance risks. Sophisticated and clear management reports and transparency ensure the optimization of all activities as well as conscious decision making. For organizations:
Full transparency of guidelines & policies, rules, business risks and controls
Institutionalize the implementation & review of controls
System-driven follow-up in case of inconsistencies
Documentation for external & internal audits
For Employees:
Contextualize guidelines, rules, business risks and controls to everybody
Ensure clear accountability & responsibilities
Framework for consistent documentation of controls and reviews
Personal reminders and workbench
For Corporate / Groups:
Key metrics to manage business risks and controls
Enterprise wide management reports
Transportation of best practices between entities
Coordination of local & group guidelines
Facilitate shared services and audit support
Business Risk Management Approach

Following standards but flexible to remain simple
The Business Risk Management process is standardized via several industry standards. Our solutions allow the identification of risk sources, quantification of risks, determination of controls, supervision of the implementation process and automated audit and review cycles. This process is supported by specific analytics to identify short comings and focus areas. Main Functionalities:
Manage corporate structure
Manage rules & guidelines
Manage contextualization of guidelines to employees
Identify and quantify risk
Determine, allocate and specify controls
Manage implementation
Audit implementation
Analytics on efficiency and effectiveness of implementation
Solution Introduction
Business Risk Management References

"Finally a comprehensive overview where the overall organization stands and which areas are critical" (Customer Feedback)
Our Corporate Business Risk Management Solution provides great analytics to facilitate that management of many entities with similar or different guidelines, laws, risks and compliance implementation approaches.
Our clients have to remain confidential, but we illustrate several examples to provide more insight about the impact of our work.
Additional Information
Download Business Risk Management Solution Whitepaper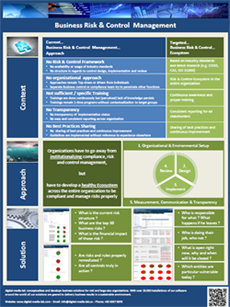 Business Risk Management Research
For the latest Information about Business Risk Management, please go to our Research Blog