Service Management Solutions
Service Management requires a solid understanding of the business processes and openness for customer feedback and continuous improvement
Service Management Solutions allow you to measure your quantitative and qualitative key performance indicator and to derive action to improve service quality perception.
Our solutions are designed to provide you improvement opportunities from the first Day 1
Listening to the voice of the customer is the basic principle of customer service. We help you to determine the opinion of specific customers and to derive immediate action.
Solution Packages

Objective of Solutions

Immediate Direct Feedback
Our solutions allow you to assess customer feedback in general or directly after the service is rendered.
Immediate customer feedback
Analysis of individual customer service consultants
Development of key performance indicator over a period of time.
Analysis of verbatum and follow up action on problems
Service Management Approach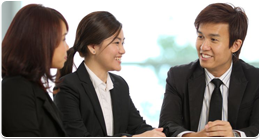 Constant Feedback, Improvement and Escalation
Understanding the performance of your customer service team requires fast and accurate information. With our solutions you get immediate feedback about the service level and facilitates you to find resolutions on customer dissatisfaction before they become problems. Main Functionalities:
Collect Customer Feedback (qualitative & quantitative)
Analyze feedback and coach customer service staff
Identify general problem areas
Provide immediate customer response in case of problems
Track mid term performance improvement
Benchmark different areas and individuals
Some References
Our clients have to remain confidential, but we illustrate several examples to provide more insight about the impact of our work.