Innovation Management Solutions
Identifying New Ideas and implementing them consistently
Our Innovation Management Solutions enables your organization to elicit ideas, prioritize them and control the piloting and implementation. Ensure your organization benefits from business innovations in a structured way.
Transforming new ideas into business impact
Every organization has can develop new ideas, but almost none can translate them into true value add. Our solutions support you to capitalize on new ideas and enjoy the benefit our your talents passion and discipline for constant improvement.
Innovation Management Packages

Objective of Innovation Management Solutions

Foster ideas, evaluate potential impact, test and implement
No matter if it is a new product, service or improved process, your talent has a lot of ideas how to make your organization better. Our Innovation Management solutions let you share the process of organizational transformation with your employees in simple but effective processes.
Identify potential ideas
Estimate / Evaluate impact
Identify implementation opportunities
Consolidate implementation feedback
Multiply implementation in other areas
Innovation Management Approach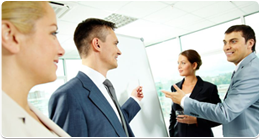 Innovations are not accident
If you leave business innovation to be a by-product of normal operations, your organization looses out on one of the key assets of employing people. Every employee will develop ideas how to make operational processes easier or how new products and services can improve customer satisfaction. Main Functionalities:
Raise and contextualize ideas
Evaluate impact of idea
Identifying implementation opportunities
Assign test implementations to key talent
Consolidate feedback and improve implementation approaches
Multiply ideas across different areas
Innovation Management References
All our clients remain confidential, but we can illustrate several implementation examples to provide your more insight about the impact of our work.